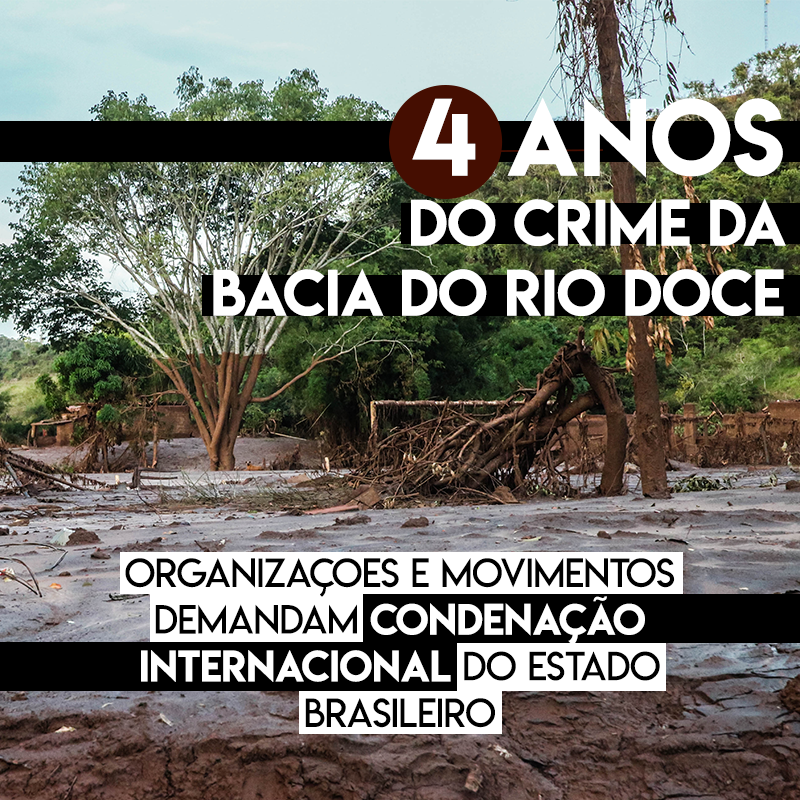 Four years since the collapse of the Samarco tailings dam, in Mariana, entities and social movements have filed a case before the Inter-American Commission on Human Rights (OAS). The objective is to obtain the criminal conviction to the Brazilian State for the violation of the Human Rights inflicted along the Rio Doce Basin.
The entities indicate that the State has systematically failed in the inspection and monitoring of the tailings dam, as well as in the reparation to those who were affected. The lawsuit intends to get the conviction of Brazil in non-repetition measures, in reparation measures to the population that was affected by the Fundão dam collapse and also to the environment.
Four years after the tragedy, few reparation measures were effectively taken to cure the violated rights of the population that inhabits the Rio Doce Basin. The collapse of another Vale tailings dam, in Brumadinho, make it clear that the Brazilian State have been failing in its basic duties of law enforcement and monitoring.
The initiative was a joint between the Human Rights and Business Centre (Homa – UFJF), FIAN Brasil, Grupo de Estudos e Pesquisas Socioambientais (GEPSA), Justiça Global, Movimento dos Atingidos e Atingidas por Barragens (MAB), and Núcleo de Direitos Humanos da Universidade Federal de Ouro Preto (UFOP).