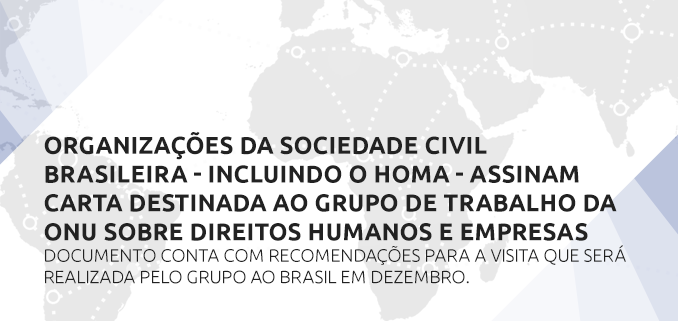 The Working Group on Human Rights and Transnational Corporations and other Business Enterprises was created in 2012, after the end of the mandate of the Special Representative of the UN Secretary General for Human Rights and Transnational Corporations and Other Business, John Ruggie, and aims to promote the implementation of the Guiding Principles on Business and Human Rights, published by Ruggie in 2011.
One of the Working Group's task is to carry out visits to the Member States to report situations such as human rights violations by companies and any progress in human rights protection mechanisms in these States.
The Working Group is visiting Brazil between December 07th and 17th, and its schedule includes the following cities: Brasília, São Paulo, Rio de Janeiro, Belo Horizonte, Altamira and Belém.
Despite appeals and orientation from various organizations and social movements of Brazilian civil society, the group is not yet scheduled to visit the Municipality of Mariana – MG, where a severe disaster (Environmental offense) caused by the breaking of a dam owned by Samarco (Vale S/A and BHP Billiton affiliate) has occurred.
The full content of the letter can be found, in Portuguese and English, in the links below:
Letter to the UN Working Group on Human Rights and Transnational Corporations – Portuguese Version
Letter to the UN Working Group on Human Rights and Transnational Corporations – English Version
The list of subscribing organizations includes:
Homa – Projeto Direitos Humanos e Empresas – Universidade Federal de Juiz de Fora – Faculdade de Direito, Associação Brasileira Interdisciplinar de AIDS (ABIA), Conectas Direitos Humanos, Federação de Órgãos para Assistência Social e Educacional (FASE), Federação Nacional dos Trabalhadores na Agricultura Familiar (FETRAF), Fórum de Trabalhadores por Verdade, Justiça e Reparação, Fórum da Amazonia Oriental (FAOR), Grupo de Trabalho sobre Propriedade Intelectual (GTPI), Instituto Brasileiro de Análises Sociais e Econômicas (IBASE), Instituto de Estudos Socioeconômicos (Inesc), Instituto Políticas Alternativas para o Cone Sul (PAcs), Instituto Equit, Internacional dos Serviços Públicos Brasil, Justiça Global, Movimento dos Atingidos por Barragens (MAB), Rede Brasileira pela Integração dos Povos (Rebrip), Rede Social de Justiça e Direitos Humanos, Serviço Interfranciscano de Justiça Paz e Ecologia (Sinfrajue) e Terra de Direitos