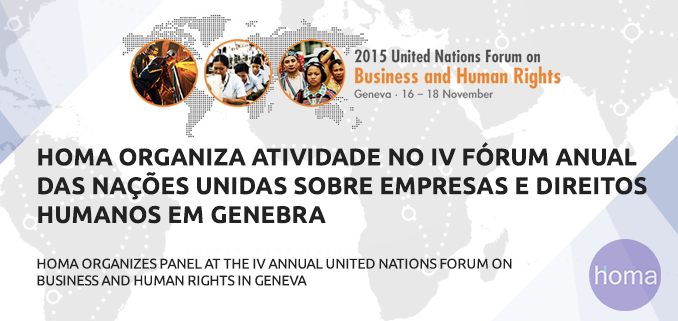 Between 16th and 18th November, 2015, The Fourth Annual United Nations Forum on Business and Human Rights will take place in Geneva, and Homa – Human Rights and Business Centre of the Federal University of Juiz de Fora – Brazil – will organize a panel along with other universities from various countries and regions.
The panel is entitled: "Cooperation through Education, Research and Dialogue – The Role of Academic Institutions as multipliers of the Global Agenda on Business and Human Rights", featuring the following scholars and institutions:
Manoela Carneiro Roland – HOMA – Human Rights and Business Center of the Federal University of Juiz de Fora (Brazil);
Björn Fasterling and Karin Buhmann – BHRIGHT Network, here Represented by Copenhagen Business School (Denmark), EDHEC Business School (France) and the University of Seville (Spain);
Sheldon Leader – EBHR – Business and Human Rights Project of the University of Essex (UK);
Bonita Meyersfeld – CALS – Centre for Applied Legal Studies of University of the Witwatersrand (South Africa);
Surya Deva – School of Law, City University of Hong Kong (China);
Françoise Guichard – E-dh – Entreprises pour Les Droits de l'Homme (France);
Joanne  Bauer- Teaching Business & Human Rights Forum / Columbia University (USA).
The panel will take place on 16 November in Room XII United Nations Headquarters in Geneva, starting at 10 am. Click here for the concept note of this action, and here for the Forum programme outline.