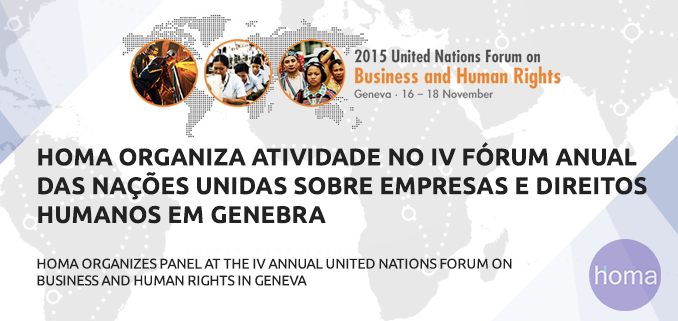 Entre os dias 16 e 18 de novembro de 2015, acontecerá o IV Fórum Anual das Nações Unidas sobre Empresas e Direitos Humanos e o Homa – Centro de Direitos Humanos e Empresas da Universidade Federal de Juiz de Fora organizará atividade juntamente com outras universidades de diversos países.
A atividade tem como tema a "Cooperação através da Educação, Pesquisa e Diálogo – O Papel das Instituições Acadêmicas como Multiplicadores da Agenda Global sobre Empresas e Direitos Humanos" (Cooperation through Education, Research & Dialogue – The Role of Academic Institutions as Multipliers of the Global BHR Agenda) e contará com a participação dos(as) seguintes professores(as) e instituições:
Manoela Carneiro Roland – HOMA – Human Rights and Business Centre of the Federal University of Juiz de Fora (Brasil);
Björn Fasterling e Karin Buhmann – BHRIGHT Network, here represented by Copenhagen Business School (Dinamarca) and EDHEC Business School (França), and the University of Seville (Espanha);
Sheldon Leader – EBHR – Business and Human Rights Project of the University of Essex (Reino Unido);
Bonita Meyersfeld – CALS – Centre for Applied Legal Studies of University of Witwatersrand (África do Sul);
Surya Deva – School of Law, City University of Hong Kong (China);
Françoise Guichard – E-dh – Entreprises pour Les Droits de l'Homme (França);
Joanne Bauer – Teaching Business & Human Rights Forum/ Columbia University (EUA).
Esta acontecerá no dia 16 de novembro, na Sala XII da sede das Nações Unidas em Genebra, começando às 10h.
Para acessar o programa conceitual da atividade em inglês, clique aqui. A programação do IV Fórum está disponível em inglês neste link.