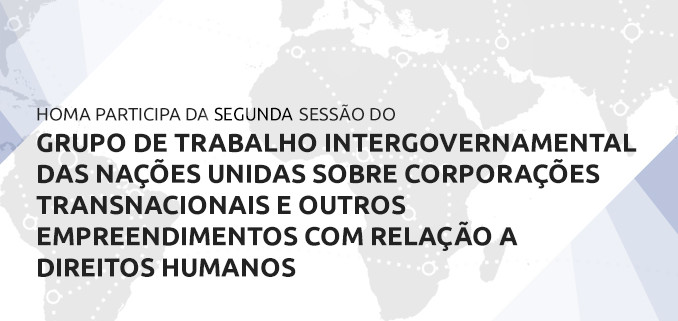 O clima em Genebra é de apreensão e de esperança para o que acontecerá na segunda sessão do Grupo Intergovernamental das Nações Unidas sobre Empresas Transnacionais e Outros Empreendimentos em relação a Direitos Humanos (IGWG) e em toda a mobilização planejada na cidade durante o período de reuniões.
Aproximadamente 400 organizações não governamentais, movimentos sociais, centros acadêmicos e grupos afetados pela atividade corporativa de todo o mundo se uniram ao redor da pauta da necessidade de um marco normativo vinculante capaz de responsabilizar empresas transnacionais por violações de Direitos Humanos, e coletivamente, com o apoio e liderança de Estados, como o Equador e a África do Sul, foram capazes de iniciar um processo de grande importância para a conjuntura política e econômica mundial, a criação de um Grupo de Trabalho composto por Estados para elaborar "um instrumento internacional juridicamente vinculante sobre corporações transnacionais e outros empreendimentos com respeito a Direitos Humanos"[1], carregando em si a possibilidade de estabelecer uma normativa internacional vinculante capaz de tornar empresas transnacionais responsáveis pela violações de Direitos Humanos por elas cometidas.
O IGWG surgiu a partir da Resolução 26/9 (A/HRC/RES/26/9)[2] aprovada em junho de 2014 no Conselho de Direitos Humanos da ONU, que dispõe sobre o início do processo de debate do tratado internacional e estabelece base procedimental de conteúdo geral para suas duas primeiras sessões, a primeira já ocorrida em 2015 e a segunda que ocorrerá na penúltima semana de outubro deste ano.
A sessão do Grupo irão se dedicar ao debate amplo sobre o conteúdo, escopo, natureza e forma do instrumento vinculante a ser elaborado, de modo a fornecer subsídio suficiente e qualificado para a preparação de um draft a ser apresentado pela presidência do IGWG na sua terceira sessão[3]. Isso quer dizer que se discutirá quais Direitos Humanos deverão ser abrangidos pelo instrumento, bem como sua abrangência (quais atores poderão ter as normativas vinculante a si aplicadas), seu formato e sua natureza jurídica (se esse instrumento será um tratado internacional, ou outro instrumento jurídico internacional, como convenção.
A segunda sessão do IGWG ("Open-ended Intergovernmental Working Group on Transnational Corporations and Other Business Enterprises with Respect to Human Rights") ocorrerá entre os dias 24 a 28 de outubro de 2016. O HOMA – Centro de Direitos Humanos e Empresas, participará apresentando submissions, que será enviada em parceria com várias organizações brasileiras sobre a experiência brasileira na advocacy do tratado, com os temas:
THE OBLIGATIONS OF HOME STATES: THEIR EXTRATERRITORIAL OBLIGATIONS ON HUMAN RIGHTS VIOLATIONS BY TNCS.
BUSINESS AND HUMAN RIGHTS TREATY: AN IMPORTANT QUESTION – THE SCOPE OF THE TREATY 
BUSINESS AND HUMAN RIGHTS TREATY: AN IMPORTANT QUESTION – TRANSNATIONAL ENTERPRISES AS SUBJECT OF DUTIES  
Além disso, o HOMA contará com a organização de um side event, que abordará os principais temas estudados pelo centro, bem como a perspectiva de elaboração de um Tratado Vinculante e a dinâmica dos Planos Nacionais. Ademais, estarão representantes de Estados, movimentos sociais, organizações não governamentais e centros acadêmicos de todo o mundo na sessão do Working Group.
---
[1] Tradução nossa de trecho da Resolução 26/9 do Conselho de Direitos Humanos da ONU.
[2] Texto da resolução: http://ap.ohchr.org/documents/dpage_e.aspx?si=A/HRC/26/L.22/Rev.1
[3] "2. Also decides that the first two sessions of the open-ended intergovernamental working group on a legally binding instrument on transnational corporations and other business enterprises shall be dedicated to conducing constructive deliberations on the content, scope, nature and form of the future international instrument, in this regard; 3. Further decides that the Chairperson-Rapporteur of the open-ended intergovernamental working group should prepare elements for the draft legally binding instrument for substantive negotiations at the commencement of the third session of the working group on the subject, taking into consideration the discussions held at its first two sessions;"